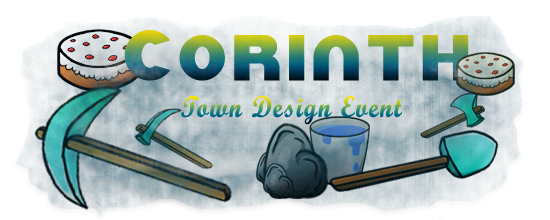 Have you ever wanted to build your own dwarven empire? Your own Atlantis? Heck even a medieval castle? Well now is the time to show what you can do. CivCraft is hosting a town design competition to see what you can build. It's simple really, take all the time you want and use what ever block you want. Your friends want to help you with your creation? Go for it. Just make sure that what you design is cohesive and fits into the biome you are building in. Heck built your town in the wrong biome? Rebuild it! Don't have any templates? No problems, just build your own buildings. Templates don't guarantee that you are going to win anything.
Rules:
Multiple people can work on a town but only the mayor of that town will be able to claim the prize.
Multiple towns can build into one town, but only the one mayor of the town that it's built around will win.
You can terraform as much as you want.
In the event that there are multiple town mayors, the mayor that founded the town will get the prize. If the founding mayor is not active or no longer mayor of the town, the town will have to pick one of the mayors to receive the prize. If a decision can not be made we will make the decision for them.
You may not win the contest with the same theme more than one time.
Only the CivCraft texture pack is allowed for submissions.
Do not submit your own pictures, we will be taking them for you.
HAVE FUN!
Prize:
Contest Length:
Contest will be held every month. You may work on your town for as long as you want but it will not be entered until you place your town name and theme on the entry list. Entries must be submitted by the last day of the month and will be judged by the 5th of the following month.
Judges:
The staff will be judging the contest. Screenshots will be taken by Ostrichmann using the civcraft texture pack and shaders to enhance the picture quality.
Entries should be submitted as follows:
In-game name:
Civ name:
Town name:
Theme:
*** Warning: Only post Entries on this Topic, if you have Questions or Concerns please post on the Questions/Concerns Topic! ***